Pamela D Wilson was born and brought up in a tight-knit community. Her mother was a model caregiver who cared for older family members. Together with a hardworking father, Pamela was instilled with deep respect and understanding for elders.
A lot changed for Pamela within the next few years.
Pamela's mother got sick and Pamela became a caregiver at a very young age. But cancer took her mother away eventually. She also lost her sister in a car accident. A few years later she lost her brother and her father as well. The life experiences were "defining moments" for Pamela. She went through a lot emotionally. Pamela also navigated through legal challenges after the death of her family members. At that time Pamela had a solid career in advertising & sales. But Pamela realized her true calling as a caregiver expert, advocate, and speaker to help other people who may be going through the same issues.
Today people from all over the world take her guidance about caregiving.
Video Chapters from the Conversation(Click)
Origins and Motivation
Let's talk about Caregiving !
The Female vs Men Caregivers
Complexities of a Modern Families
Caregiving and Acceptance of Cognitive Decline
Self-Care for Caregivers
How to support a caregiver if you are a non-caregiver?
Seeking support
The Missing Conversation
For the majority, caregiving comes unexpected and unplanned. Pamela talks about the responsibility befalling midlifers and even many people who are in their 20s. Caregivers may not be caring just for their parents but can also be for their brother or sister. Pamela says many people don't even realize that they are involved in caregiving. Many people just assume that they are just helping out with small tasks such as groceries etc. The word "caregiving" kicks in only after medical care is involved. It is vital to have caregiving conversations with your parents, spouse, or siblings to understand what kind of care they might need.
Many times family caregivers start getting involved in basic things such as laundry or cooking which may not be needed and can negatively impact the self-esteem of the loved ones.
Challenges like these may not be recognized at all. It will also vary for a younger caregiver who is looking ahead to marriage and career versus an older caregiver who is at retirement. It is then an expert advisor such as Pamela is needed for counsel.
Women disproportionately take up Caregiving
Women form the bulk of the unpaid family caregiving cohort. Pamela talks about how this phenomenon is not just in the United States but worldwide.
Women are kind of seen as caregivers. And not just for parents, but for their husbands and children and even in certain cases grandparents.
Many of these women may take out time away from the workplace and stake their careers. Some women might even end up in poverty when they are older as all the years of caregiving affect them financially.
Pamela also emphasizes that many men also contribute towards caregiving and they seem to be more task-oriented. Men see caregiving as more of a project while women focus more on the nurturing and emotional aspects. When both can contribute to caregiving, it can be highly beneficial. But, every 1 caregiver out of 3 takes up this responsibility alone.
Complexities of Blended Families
As mentioned above men and women exhibit different capabilities when it comes to caregiving. It helps to recognize these aspects and divide them. For ex parents, brothers and sisters or spouses can create these agreements.
Pamela points out the complexities that can occur in the more modern or as she says "Blended" families. These are atypical situations where divorces may have happened and there are now in-laws and step brothers or step sisters involved.
Where there was a divorce, so there was a remarriage and now you have inlaws, and you have step brother or step sisters. Not everybody goes along in these situations. Sometimes it can be very divisional.
At these junctures, parents who you are caregiving for may have unjustified reactions such as "Your husband wants to put me in a home" or "Your wife will not..". These can be very divisional. Married couples need to stick together in these life situations.
Recognizing the Pattern of Cognitive Decline
Cancer and Dementia Caregivers are especially prone to severe mental stress and agony. Many people approach Pamela with bewilderment around how the behavior of their loved parents has changed. They are surprised by their declined ability in taking care of themselves or even able to do basic chores.
"They remember mom doing everything, taking kids to schools, making the meals and cleaning the house, she was a superwoman but now Mom can't do basic things. So it is emotionally very hard for children to accept"
People are afraid of cognitive decline and thus, hardly anyone talks about it. Even grandkids would approach Pamela saying that grandpa or grandma are being so rude. They might be using cuss words or showing violent behavior that they would previously never use. It is then critical to recognize the changing habits and maybe accept the cognitive decline. Pamela herself had to bear violent behavior from patients suffering from Parkinson's and Dementia.
Caregiving Burnout is Real
36% of Caregivers end up developing high stress. More often than not caregivers themselves sacrifice a lot in their role and may not recognize their own needs. The burnout and emotional stress can be daunting and have been shown to increase mortality and reduce the longevity of caregivers.
Pamela says - "Caregivers are the most selfless people I know. They give up friends, social lives, jobs, and careers to take care of loved ones. What caregivers do not realize is that in giving up all these, they may lose all of their social support. Many caregivers do not have a backup plan. For ex, if they get sick, who will then care for them and for those who needed caregiving in the first place"
Caregivers can be bad at listening to their own advice. They are really good at telling their loved ones about how they should exercise, meditate and have their medicines on time. But they themselves may not be adhering to it.
Self-Care and Self-Love is also about learning from this situation that we are in. If Mom  or Dad need to eat better, well maybe I need to eat better so that I don't have this health problem in future !
Pamela encourages caregivers to have a plan for burnout. Because at a point one can become very angry or very frustrated that starts affecting them deeply. What can you do to support yourself or your loved ones in this journey?
---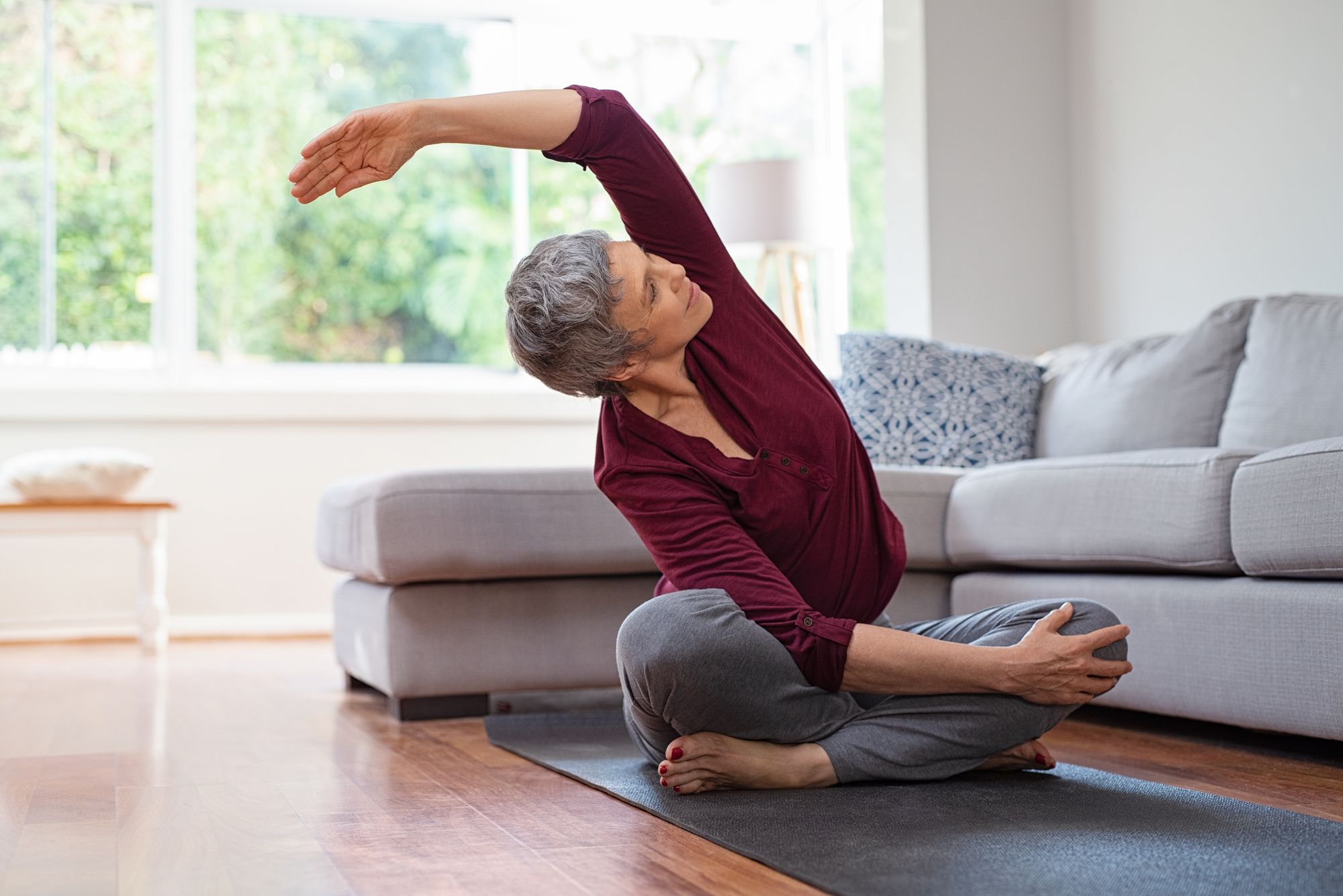 Oseterics is on a mission to inspire you for active and graceful aging. A regular Yoga regimen is proven to help in both physical and mental health.
You can also access the App here: https://apps.apple.com/app/id1574133871
                 OR
---
Who Cares for Caregivers?
Non-Caregivers in the family can play vital roles in supporting a caregiver. Noncaregivers such as other siblings or kids can ask caregivers for the list of items they have to do and help them in their work. If you are not in town, you can still help them financially, for ex by hiring paid help.
You can also replace your brother or sister for some time and let them have a week off or help them to go on a vacation. One can also call their parents twice or thrice a week and give emotional support and even ensure their timely medication. Most importantly, they can lend an ear to the caregivers, validate their feelings and express sympathy for how hard things are for them.
Sometimes caregivers just need to be heard, as do the people who are receiving care !
Pamela D. Wilson Support Resources
Pamela has several  Videos on Caregiving and Aging Topics on her Youtube Channel. She also has a trove of extremely helpful podcasts available on both Apple Podcasts and Google Podcasts
Her caregiving blog has various resources to navigate caregiving, associated legal issues, and managing aging in general.
---
Feedbacks: Leave your comments below