English Channel
The English Channel is one of the toughest swimming challenges and is well respected among experienced long-distance swimmers around the world. The English Channel was first crossed in 1875. Since then many thousands of swimmers have attempted to cross it but only circa 2,300 have succeeded and no more than maybe a dozen or so older than Ed. The English Channel is 21 miles (33.6 kilometers) in a straight line between Dover (England) and Cap Gris Nez (France). The duration of a swim can vary from less than 10 hours to over 20 hours, with several factors affecting the duration such as the temperature of the water, the strength of the currents, and the direction and strength of the winds.
Video Chapters from the Conversation(Click/Tap)
A Childhood Swimmer and a Midlife Rediscovery
A Tale of Whales: Crossing Gibraltar Strait
Camaraderie and Training Regime
The First and Second Attempts of English Channel
The Goldilocks Success
Motivations of a Healthy Life
Rediscovering Swimming
Ed is a qualified accountant by profession and had remained with the same company for over 30 years. He is currently building a second career to see him  into his 70s. To the outside world, he followed the normal stable lifestyle of a business executive, while privately, he has become an extreme ultra-long distance swimmer.
Ed started swimming as a child and was involved in club swimming but by the age of thirteen, he had shifted to Rugby where he did very well, playing at Twickenham in varsity matches between Oxford and Cambridge. Looking back, he realized that swimming had helped him to develop lung capacity, and broader shoulders and also taught him the discipline of training. Beyond the age of thirteen, Ed did not pursue swimming as a sport.
I have one daughter and I vowed that she would learn to swim. Because, swimming gave me so much when I was a child.
Ed reflects that his father's death in 1998 only three years after the birth of his daughter, Elizabeth aka Fizzy, and a prostate cancer scare in 2011 were the two biggest galvanizing factors for him to adopt a healthy lifestyle. In his younger  days, Ed had always assumed that he probably would not be around beyond the age of 55 years. After the birth of his only daughter, his life perspective changed and, despite a thirty-year gap, he got back into the water to teach his young daughter to swim. One thing led to another and he found himself starting to swim with a competitive adult "Masters" swim team.
The Unlimited Horizons of Open Water
Ed's very first open water swim of note was along the course of the Henley Royal Regatta, an internationally famous venue for rowing events. For this open water swimming event, the course is about 2.1km long against the current and takes approximately 40-50 minutes to complete.
Ed's move into ultra-long distance swimming was inspired by a well-known elite endurance coach Professor Greg Whyte. At a sports dinner Ed attended, Greg talked about how he had partnered with Olympian James Cracknell and celebrity comedian David Walliams to swim together across the Gibraltar Straits and, during the swim, they were fortunate enough to be joined by a pod of pilot whales. The image was so compelling that Ed decided to attempt the swim himself.
Preparation: 2017
In 2017, Ed and his friend, Michael Fabray, swam from Tarifa, Spain across the Gibraltar Straits reaching land on the coast of Morocco. The swim lasted for just over three and a half hours and was a very tough swim due to the strong currents from the Atlantic into the Mediterranean. This success turned Ed into a swimming adrenaline junkie! Ed's next major open water swim was Lake Windermere end to end which he completed in just under six and half hours and then it was time to attempt the English Channel.
Ed had initially booked a slot to swim the English Channel in 2019 but the weather was too inclement and just before the re-arranged slot in the same year the pilot boat malfunctioned. Ed had utilized the year well in terms of his training and preparation. He swam with a group, Dover Channel Training, that specialized in long-distance open water training where every weekend anywhere between twenty to fifty like-minded swimmers got together in Dover harbor to prepare for different swimming challenges. Over the year, Ed hit most of his training goals.
Everyone thinks that swimming is a lonely sport. But in my case, I would say that swimming actually provided me with the social interaction and camaraderie
First and Second Attempts: 2020 and 2021
Kevin Murphy is famously known as the "King of Channel" as he has swum the English Channel 34 times, which is more than any other male in history. Kevin normally mentors overseas swimmers and runs training camps mainly in Spain. Due to the pandemic, Kevin, based in England, did not have many clients for the season. Kevin advertised and Ed feels he was extremely lucky to become his first pandemic client. What Kevin brought to the equation was his absolute wealth of knowledge and experience.
In 2020, Ed finally got to attempt to swim the English Channel. Starting at 7.00pm in the evening, for the first three hours, the sea conditions were very tough with the strong winds and the currents going in different directions. Ed involuntarily= imbibed a lot of seawater. After a further ten hours of swimming (largely through the night), Ed now had water pressing against his lungs. His physical condition was deteriorating, his breathing had shallowed and his color was turning grey. That is when Ed's crew told him to stop the swim.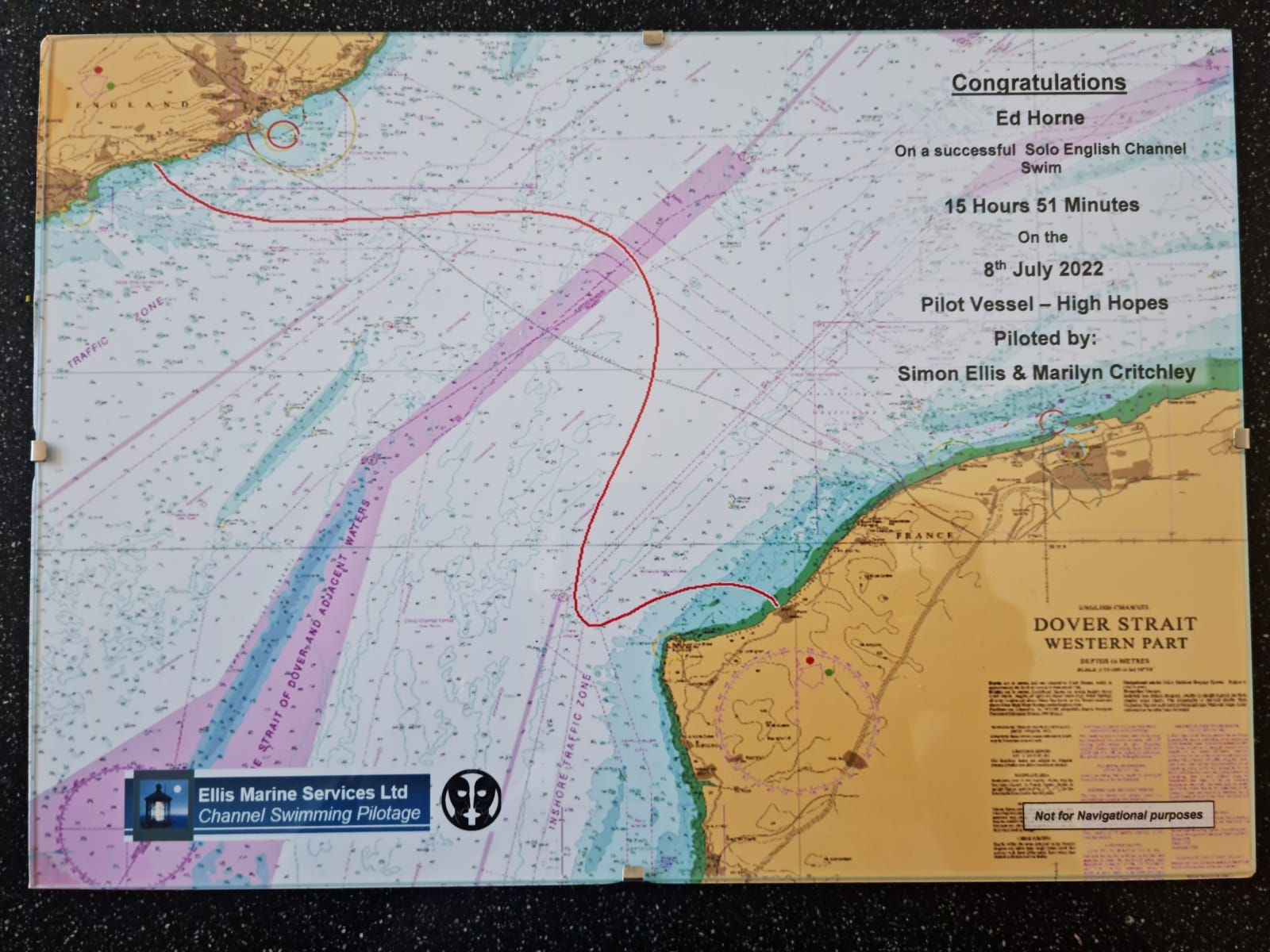 Starting in 2021, Ed was determined to learn from 2020. Ed changed the way he would breathe by tucking his head into his shoulder to avoid imbibing seawater. He also changed his feeding program to have more diuretics to help him pass water. In 2021, Ed started his second attempt in the early morning in extremely thick fog. After around five hours into the swim, Ed felt that he was not able to pass the fluid he was taking in and wrongly reduced his intake of water. Within twelve hours, Ed started to feel a severe cramp in both of his hamstrings.
I spent thirteen hours and fifty five minutes convincing myself I could do this, and just five minutes to convince myself that I could not!
Already fourteen hours into the swim and still with no visibility because of the fog, Ed's stroke technique had deteriorated to the point where he was no longer progressing across the currents merely riding with them. Despite being well within French inshore waters and no more than a couple of miles from land (as  the crow flies), it would probably have taken another two to three hours to make land in France. Ed could maybe have made it but he could not face another two to three hours of excruciating pain. Ed decided not to continue and touched the boat to end the swim.
The Goldilocks Success: 2022
Raising money for charity from the swim was one of the most humbling experiences of Ed's life. Many of his friends and acquaintances had donated large sums of money for his chosen charities.
I would often find myself in tears when I would see these donations
Having failed twice, Ed was left with an itch that could only be scratched by finishing the swim. He had been so close on his two previous attempts and so many people were willing him to succeed. For his next attempt, Ed continued to focus on correcting the earlier issues. He started to take magnesium tablets to avoid cramps and muscle relaxing pills to help pass water. Secondly, he vowed to treat the English Channel swim as just another training swim. Hence, he continued with his six-hour, seven-hour, and ten-hour training swims and decided that D-day would be just another training swim. He asked the same crew members, Kevin Murphy and Kathy Batts, who had been present during his training swims to crew for him during the big swim itself.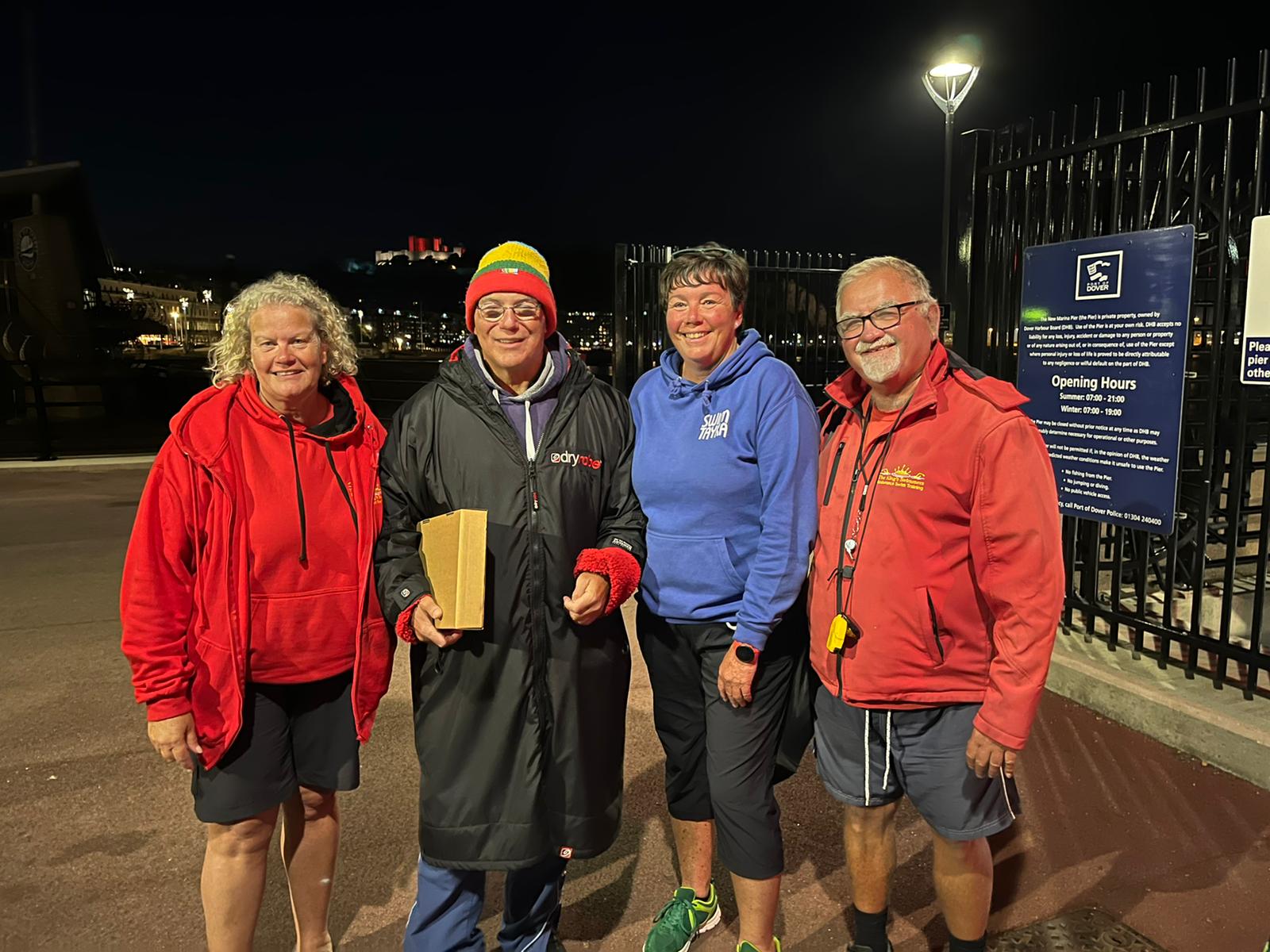 This time after swimming for 15 hours 51 minutes, Ed made it to the French shore at a town called Wissant. A group of townsfolk together with the French Open water swimmer, Steve Stievenart, came to welcome him in with a union jack flag. When Ed returned to the English shore by boat some three hours later at 11.00pm, some of his closest swimming friends were also there waiting tocongratulate him.
I was an ordinary person doing an extraordinary thing
At Oseterics, we have covered practical goal setting and finding a purpose to keep oneself motivated. Ed explains that he has always been a goal-oriented person and is inspired to keep building towards something. He also emphasizes social connections. The camaraderie became an important element in his success. During all the training, Ed tried to ensure that he also spent time with his family, particularly his wife, Dale, especially on non-training days.
---
Oseterics is on a mission to inspire you for active and graceful aging. A regular, practical, and tailored Yoga regimen is proven to help physical and mental health.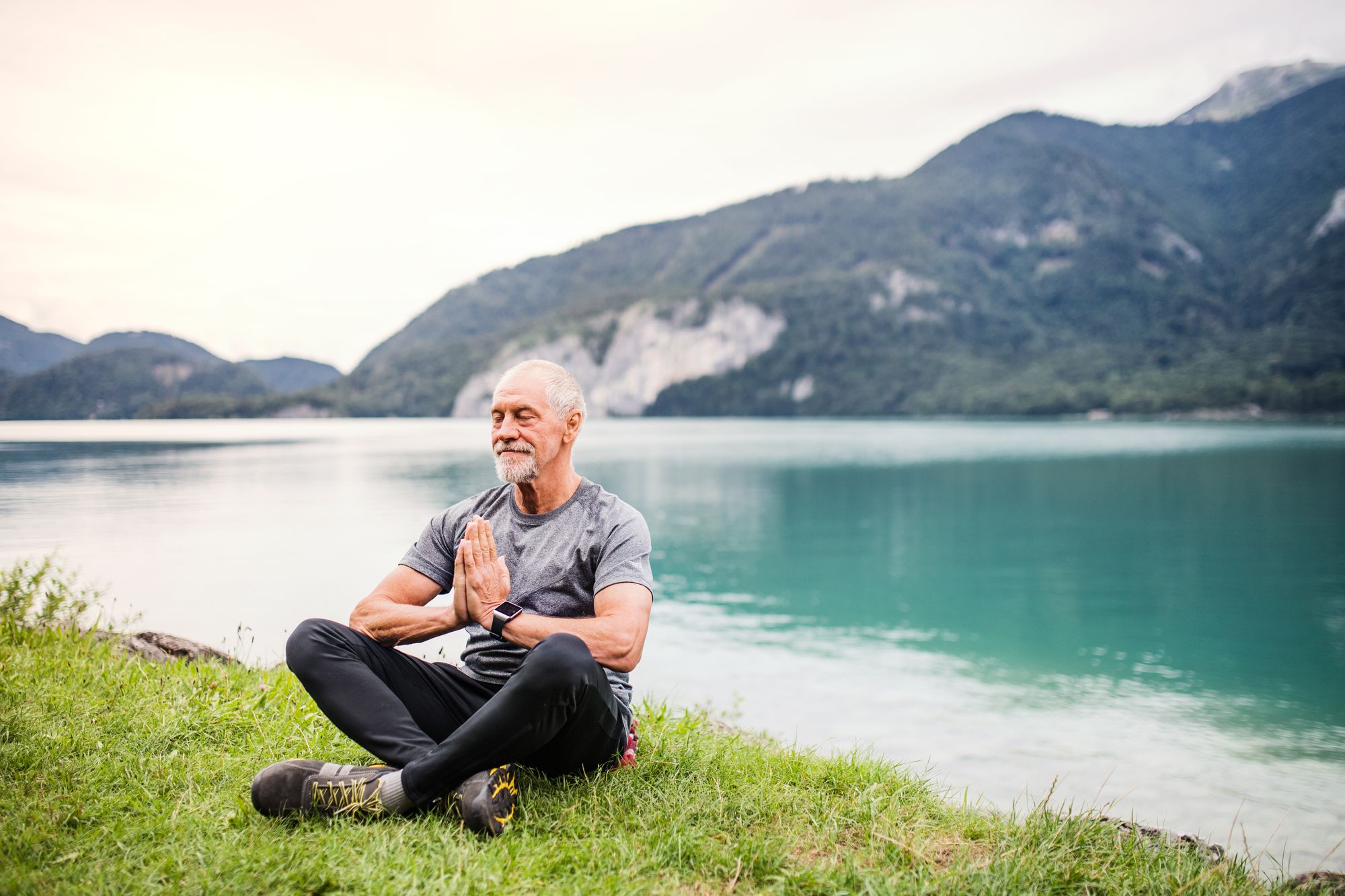 ---
Access the App here: https://apps.apple.com/app/id1574133871
                                                   -—OR----
Get Your Download Link here:
---
Ed is now currently enjoying some relaxation and networking for his new career. He has no further swims planned. However, if the itch to swim long distances returns, Ed will likely look at attempting two iconic swims in the USA being the Catalina Strait in California and the 20 Bridges around Manhattan in New York which along with the English Channel would complete the open water swimming Triple Crown. Coupled with his family life and career, as he says, he would like to keep making new memories.
Below is a small clip from Ed's successful English Channel swim that went viral on LinkedIn
---
Feedbacks: Leave your comments below