An Article by Imagen Gowan, author of '50: Diary of a Middle-Aged Woman.'
---
Are you over 50 and looking for love?
I am. I have been dating on and off for the last seven years and my experience is that finding my forever partner is something akin to mission impossible. But perhaps that's because I'm too fussy. All I want is an intelligent, educated, wealthy man who cares about his health, loves good conversation, has manners, speaks beautifully, and has a head full of hair...
Many women I've spoken to say it's a numbers game. It's about kissing a lot of frogs before you find a prince - if you find one at all. But don't be disheartened. These days there are lots of opportunities to find Mr. Right. We're spoiled for choice!
These days there are lots of opportunities to find Mr. Right. We're spoiled for choice!
In the past, people tended to only meet their partner at work, via friends, family, or through their hobby. And this is still a possibility, but there is now a broad range of dating sites online, from well-known giants such as Tinder, Match, OkCupid, Plenty of Fish, Eharmony, and Bumble to more niche apps like Asexuals.net, Lumen, and Silversingles (for those of us over fifty). And there is no longer any stigma attached, especially since the pandemic. Everyone does it - from people in their teens through to as old as you like.
Your own priorities or past experiences also determine whether you are looking for a partner at all. Heart-breaking end of relationships takes time to heal. But one of the key factors that emerge in not dating is "age". As per research, 25% of non-daters above age 50 say that they feel "too old" for dating.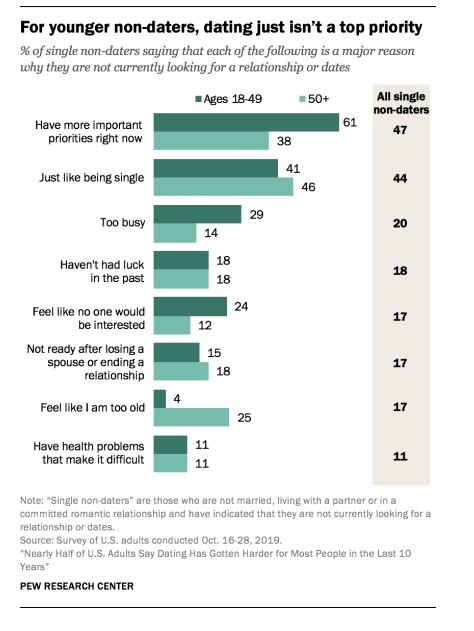 Older women are even more reluctant to join the dating bandwagon. As per statistics, about 40% of women beyond the age of 65 are unpartnered. The leading cause is the perhaps shorter life expectancy of men as only 21% of men are single in their later life. But despite the plethora of apparently single men out there just waiting to be matched with you, it's harder to find The One than you might imagine. Could our age be a factor? I've found that men my age - men in their fifties - often aren't interested in dating a woman in also her fifties, they're looking for someone ten years younger, someone in their forties. Conversely, I'm not interested in dating a man over sixty or approaching seventy. My parents are in their seventies!
Online dating has many benefits: you can browse potential partners from the comfort and safety of your own home and only message the people you believe have potential. You can block people, ignore people, or swap phone numbers with those you like. All of this power is now within your palm. You have a lot of control, and of course, you can delete your profile any time you want. It's easier to meet a wide range of people in greater numbers online than hoping that the love of your life will walk into your local pub and sit down next to you.
It's easier to meet a wide range of people in greater numbers online than hoping that the love of your life will walk in to your local pub and sit down next to you.
You can also tweak your settings to only see men of a certain age, or who live in a certain area, and use filters to search for people interested in the same things you are. It's not surprising online dating is increasingly popular. In fact, according to a study undertaken by Stanford in 2019, couples are now more likely to form a relationship through online dating than any other method1.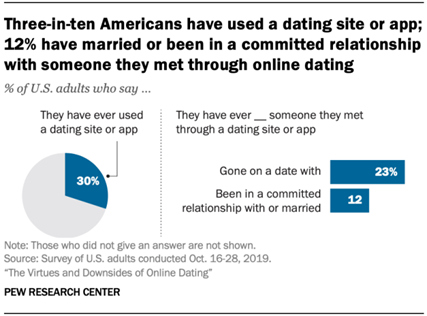 ---
But there are also a few pitfalls. It's not uncommon for people to create profiles and upload photographs that don't represent the truth of who they are now – photos from ten years ago before they put on weight and lost their hair. There is also the fear of financial exploitation, scamming, and unwanted electronic sexual attention. It's always unpleasant when you come across an angry man who feels he's been wronged and wants to argue about why you don't want to chat with him. You just need to keep and cool head and a slightly critical mind.
So what's the solution to successful dating over fifty? I'd say it's a combination method: go online and create a profile - be specific about what you want and truthful about who you are - and at the same time keep your eyes and ears open for opportunities in everyday life. Put yourselves out there. Join a club. You could also consider signing up for activities on Meetup.com. If you can't get out regularly there are plenty of interest and hobby groups online, including on Facebook. You'd be surprised at how many people meet and date via social media. So good luck, and stay positive. There are many success stories and there's no reason why you can't be one of them.
Our team has talked about dating in 50s and 60s with several influencers.
---
Q. What is your take on dating and mature relationships in 50s. How has your experience been? Do you think as a society we still have to progress more for acceptance in later life?
" Dating in the 50s is not a social problem these days. We live in a society that I feel is very tolerant of age. Today, bestagers, in particular, are allowed to live their selves like never before. I don't feel socially restricted because of my age. It is no longer as easy as it was at a young age, because everyone has had their own experiences, has a solid character and solid ideas about life and partnership. The challenge is to build a bridge here, very, very difficult.
One point in which our society still has to develop significantly is the division of roles between men and women. For example, if a man goes to a restaurant alone, it is not the same as if a woman does. A man can move much more freely than a woman and is often more respected. It's not a question of age, but of gender. Today women are still too far removed from equality."
Read and Watch more here:- https://www.oseterics.com/hella-willimsky/
---
After her failed marriage in late 50s, Kat started dating in her early 60s and met Bob. Bob and Kat are now married for 3 years. Click on the link above to watch the entire conversation with Kat
Q. How should one go about dating in their 50s and 60s ?
" Very Carefully ! After my failed marriage, I didn't think I was going to get married again at all! I would look around all the men and you know I would be like ...I don't want to be bad on all men because there are many good ones out there ..but then I met Bob and he is wonderful. We have been together for last three years and never had one argument.
But starting out was tough. I would say just take your time and do not settle. A lot of women get lonely and say I can't stay single and I need somebody. No, you don't need somebody, you may want someone but you certainly don't need anybody. Just take care of yourself and the right person will be there !"
Read & Watch more here:- https://www.oseterics.com/starting-over-with-kat-garza/
---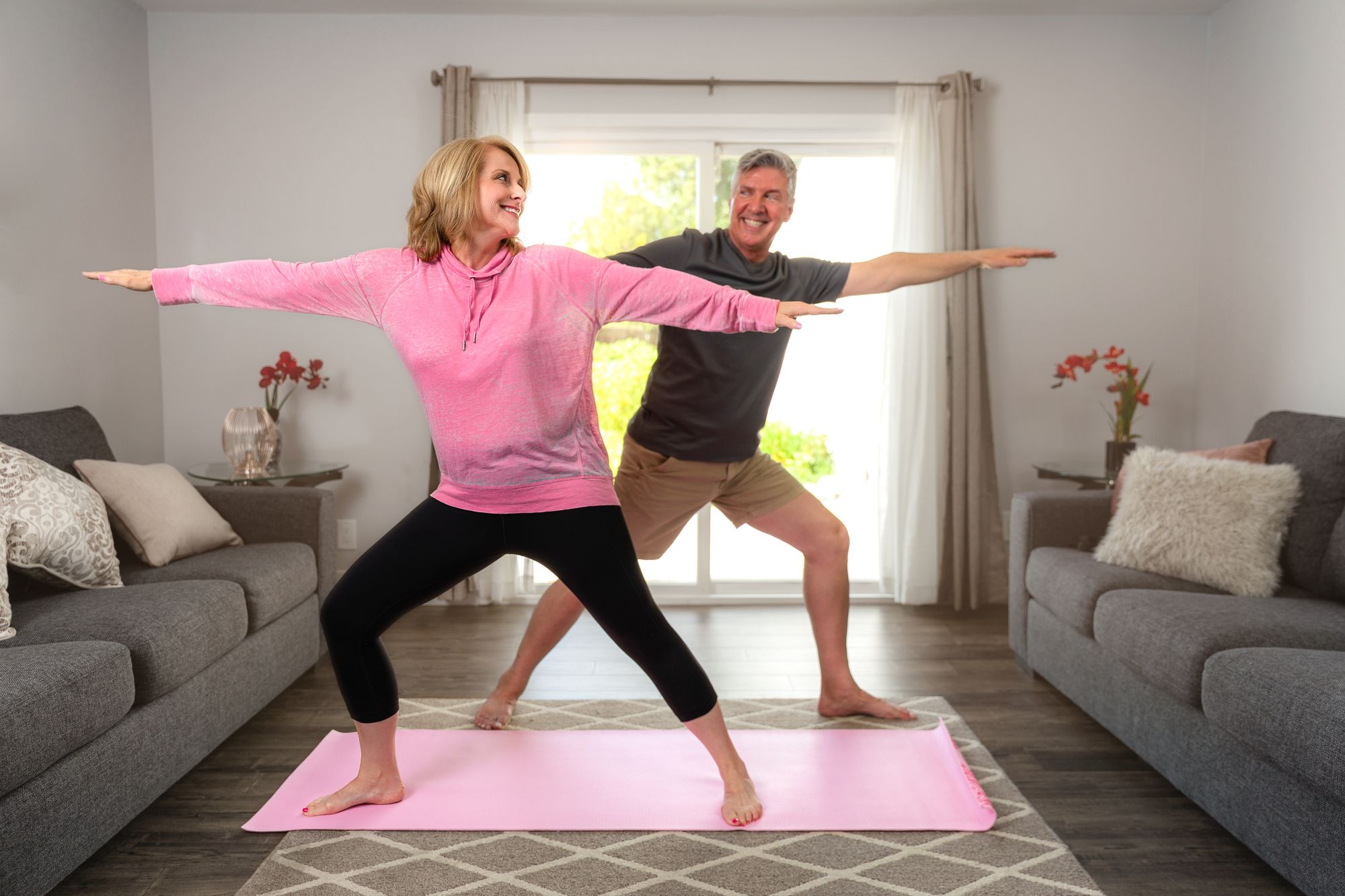 Oseterics is on a mission to inspire you for active and graceful aging. A regular Yoga regimen has been proven to aid both physical and mental health.
You can access the App here: https://apps.apple.com/app/id1574133871
             OR
---
Feedbacks: Leave your comments below