Silvina was born in a small city near the Parana River in Argentina. As an extremely good student, she eventually completed her masters in the field of statistics. Slowly and steadily she climbed the corporate stairs carving a unique name for herself. She was very well-respected and popular in her discipline. So much, so that she was able to create her own marketing agency. The great success came through her hard work, dedication, and perseverance. By her early 40s, she had moved to Spain for career progression. After a couple of years, Silvina shifted to London for more opportunities. Instead she fell in love with the culture and diversity of the city and soon everything was about to change.
Video Chapters from the Conversation(Click)
Silvina Neder : The Statistician
Going Grey : Hide and Seek
Embracing Change
Nothing goes waste: A lesson for change
Value Aging
Silvina London : Hair Care Line for Grey Hair
Skin Care and Yoga Fitness
Climate Change
Serendipity
By the time Silvina was in London, she had already been working in the marketing profession for the past 30 years. The culture of London was extremely vibrant and bred new ideas. Silvina realized the opportunity within. But with an increasing workload and trying to adjust to a new language, culture, and city, Silvina abandoned coloring her hair in order to save more time.
London encourages diversity of all sorts and Silvina was partially influenced by that. At the back of her mind, she knew that her gray curls would not look too bad after all.  As soon as the transition was completed, she started to get rave comments about beautiful her hair curls were. She sent some photos to modeling agencies just to explore, and by the week's end, she already had an offer and was modeling!
i had to literally delete my marketing website because I was completely booked  
Silvina then took some acting courses to help herself in modeling and shooting. Today, she is a well-known name in the industry of silver hair modeling.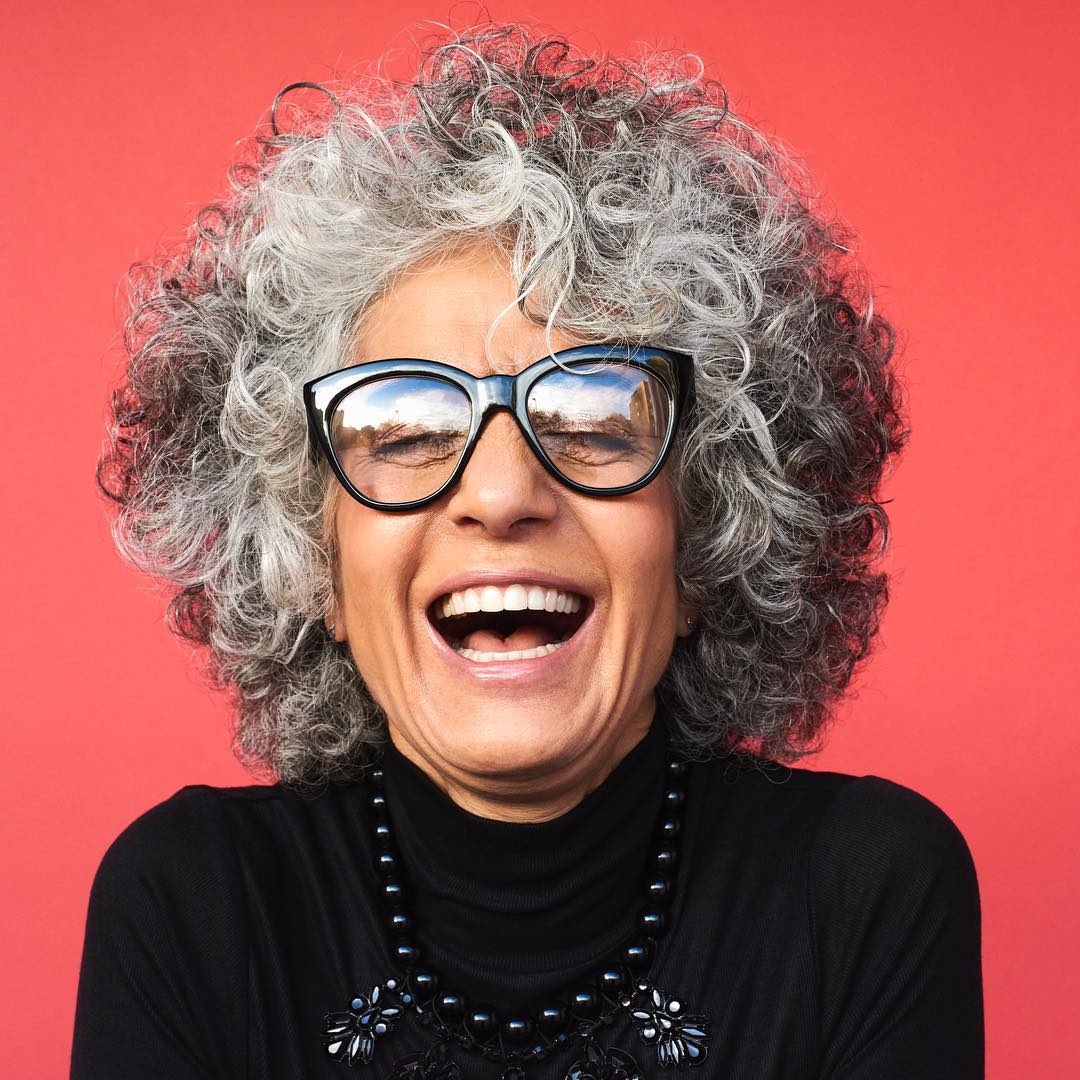 Going Grey: Hide and Seek
Silvina remembers how she started to have grey hair at a younger age. But because of the traditional setup where she resided in Argentina, she would conceal them. She thus kept coloring her hair for the next thirty years before shifting to London and deciding to #gogrey.
Before her transition, Silvina used to often meet women when she traveled for work in places like NYC or social parties who would carry their hair grey with great charm and elegance. This experiences always inspired her as well. She contemplates that after her transition, her hair has remained both stronger and healthier compared to what she would feel when it used to be colored.
It is more important to stay happy than look perfect
Silvina acknowledges that accepting grey hair is extremely empowering. It is something her viewers also write as comments on her Instagram page. Not embracing or accepting the gray, is like going against the process of life itself!  "We have to embrace both the process and accept the limitations". Silvina calls for other men and women to accept their age, embrace the wealth of their experience and empathize with both themselves and others.
Letting Go and Starting from Scratch
The shift in Silvina's career was both refreshing and scary. She was a well-established name in the marketing domain dealing with numbers and stats. In contrast, now the work was more physical in nature where you have to move around to various locations and pose for unique contexts. Leaving so many colleagues and clients in the previous profession was not easy. Many people were shocked and in fact advised Silvina against the switch.
A lot of people were telling me - Silvina you are so smart and you have studied so much. How can you just leave and let go ?
But Silvina was attracted to the new horizon. She felt it was an opportunity to learn. She was also pragmatic, knowing well that delving into a new profession compared to a 30-year career meant becoming a beginner once again !
I had to learn new things, new vocabulary, new people, new industry!
Silvina keeps an open mind. She still treats herself as an apprentice. That means she is ready to learn from everyone in the new industry. Staying positivea bout critical feedback and slowly goring her footprint a new industry.  Silvina points out that not everything was lost from her previous profession.  Due to her long career in studies as well as in marketing, she remains much more organized in the new profession as well. Having an excel sheet for all her projects, being proactive about the shoots and always punctual about the tasks. It is thus natural for her to go beyond which makes her distinctive from others.
"One should never be afraid of change. You always get an opportunity to apply your previous learnings to new things"
---
Yoga
As a young person, Silvina used to run a lot but now she follows Yoga as a daily regimen as running at this age is not so easy anymore. She also posts about her journey with Yoga on Instagram. Silvina adds cycling and rowing onto her regimen but Yoga remains as the base. Yoga helps her to focus on her flexibility, strength, and mobility.  "I love yoga and I believe there is a type of Yoga for everyone"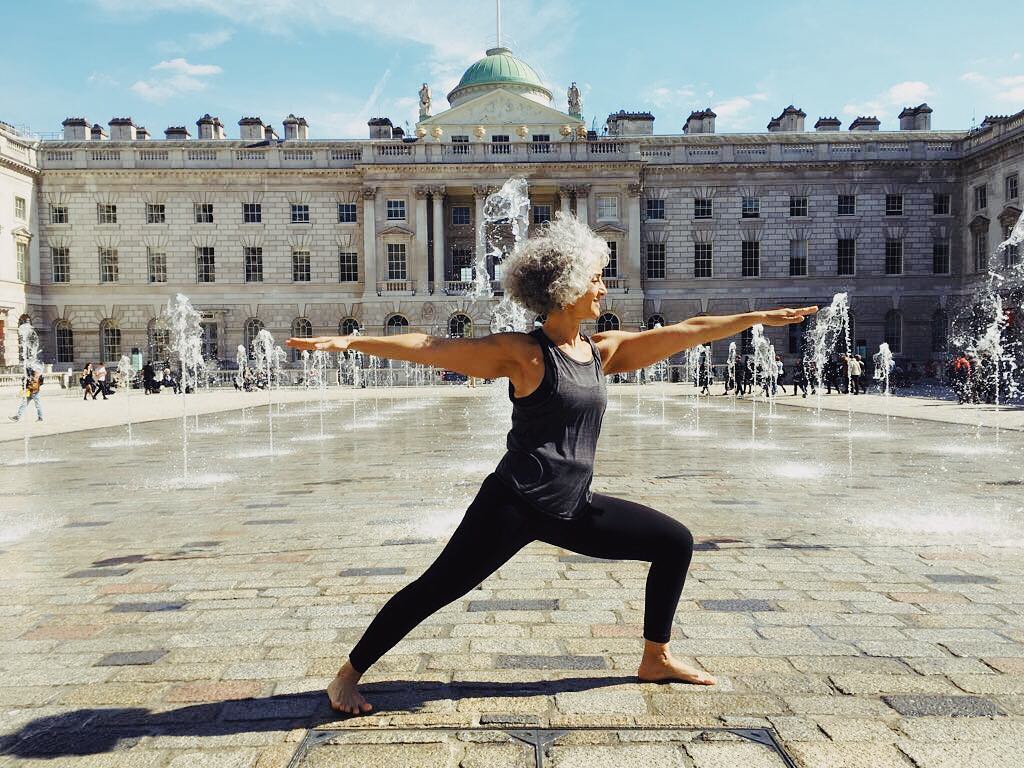 ---
Oseterics is on a mission to inspire you for active and graceful aging. A regular, practical, and tailored Yoga regimen is proven to help physical and mental health.
Enter Your Phone number here:
                                                                -—OR----
You can also access the App here:  https://apps.apple.com/app/id1574133871
---
SkinCare, Fashion and Silvina London
Silvina started botox in her early forties to hide her signs of wrinkles. Over the period she was spending time and energy covering both her hair as well as wrinkles. When she left her hair to grow grey, she realized that she might not need to follow her botox routine as well as her natural look with wrinkles was actually complimenting her gray hair. She still believes in taking care of her skin and body but avoids trying to be perfect. "What makes it feel better is the inner confidence a person has. Gray hair complimented with a happy face has much more impact than a perfect cosmetic face"
I realized that I dont want to look younger. I am this age and I want to look best for this age. When you embrace who you are, your confidence grows stronger
She is now a celebrated icon when it comes to "Grey Hair". But maintaining grey hair has come with its own difficulties. For a long time, she struggled trying to find appropriate products for her silver hair curls. Hence, Silvina introduced her own hair cair line after working on it for about 4 years. - "SILVINA LONDON". Silvina London's key proposition is that it is made with almost 93% of natural ingredients with no parabens, no silicones, and only natural sulfates. This is thus extremely soft on the hair when compared to other products with harsher chemicals. The products are very hydrating and are an added advantage to curly hair.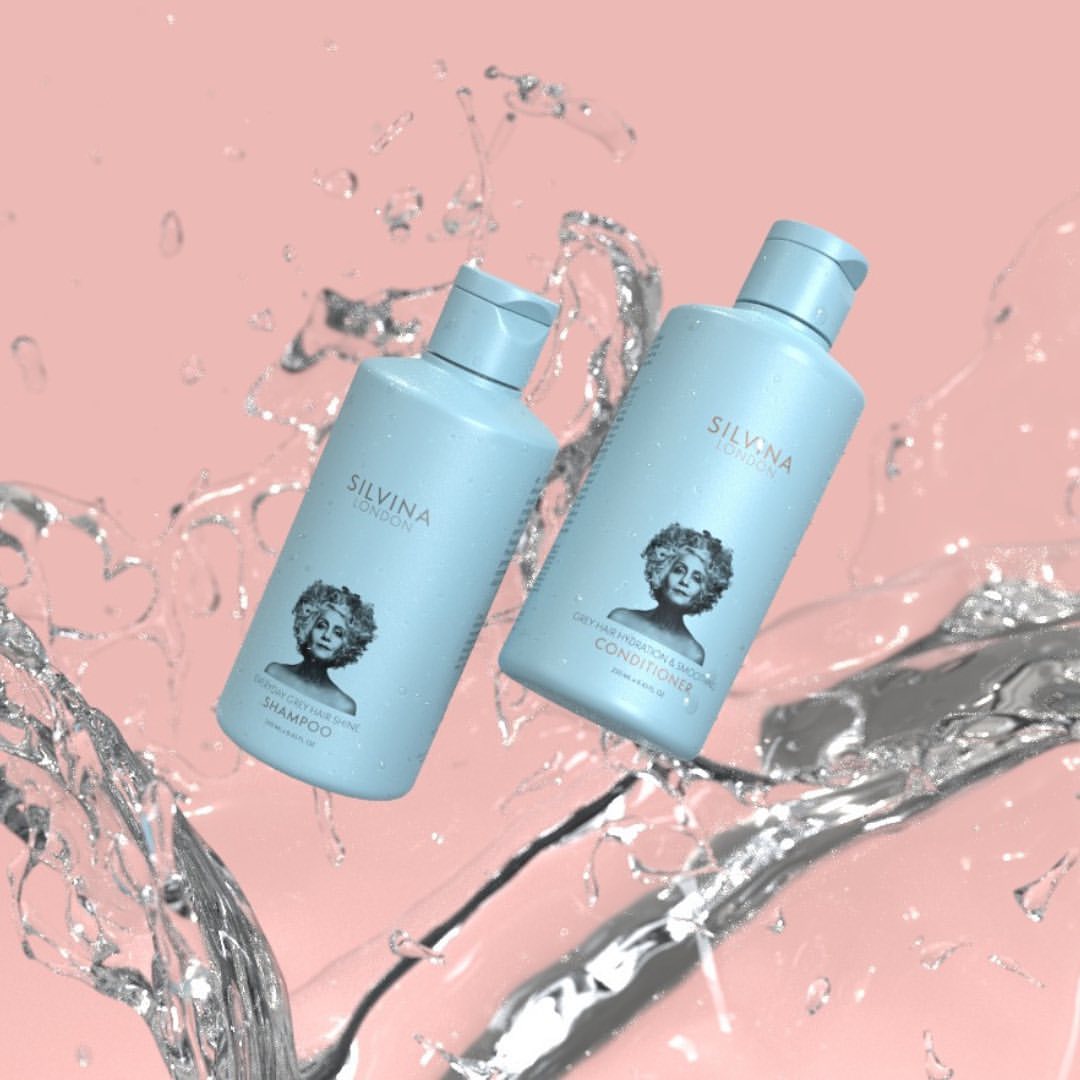 ---
Climate Change
Silvina was raised near the Parana River which is now in drought for the last couple of years leading to massive ecological calamities. Fish and cattle have been destroyed in thousands in addition to the severe reduction in access to basic supplies. This has had a deep effect on Silvina. She now truly wishes to contribute more to climate change initiatives by being more involved with different charities.
Silvina mourns that no matter how much we take lead on our personal efforts, the ongoing wars and usage of bombs and ammunition will far outweigh our personal efforts.
It is but an absolute shame that we do our parts but then you see like bomb and wars.
---
Please comment below or give us feedback at contact@oseterics.com