Embracing Age
Lucy Rose is one of the true pioneers of our current "age revolution". She launched her art and writing career at the age of 60 and since then she has written multiple books: - The Journalist: Life and Loss in America's Secret War (Spark Press, 2020), Grow Old With Me (Temuna Press, 2019), and I'm New at Being Old (Temuna Press, 2010) including multiple art & glassworks.
Embracing Age is perhaps the most important aspect of growing old. We hardly talk about the process of accepting ourselves. The emotions are mixed. Amusement, astonishment, despair mixed with the richness of wisdom.
"Aging is generally thought to be a personal issue but infact we are really all living in this together. Aging is a universal experience"
Lucy depicts these emotions in her art and writes about them in her blog. She says many people approach her and say that yeah, that's me too and they confess having similar emotions. With great humility, she is relentless in pursuit of her creations.
"Initially, I was depicting the issues of aging such as silver hair or wrinkles or frailing body or remembering the youth, but a friend of mine made me realize that I should also focus on the richness of old age. And that's what I started to depict in my art - a kind of sisterhood that exists together with millions and millions of other people who are also experiencing the journey of aging."
---
Listen to the conversation with Lucy -
Video Chapters from the Conversation(Click)
Age Revolution
Finding Motivation
Lucy Rose: The Author
The sisterhood of aging
Embracing Age
The Depth of Old Age and Collecting Memories
Support and Isolation
Planning for Senior Community
Aging Gracefully
---
Perhaps it is her energy to keep creating that instills a lot of joy and light in her eyes. Her art collectives resonate with a lot of elders who tend to experience life-changing emotions as they age. Some of Lucy Rose's art:-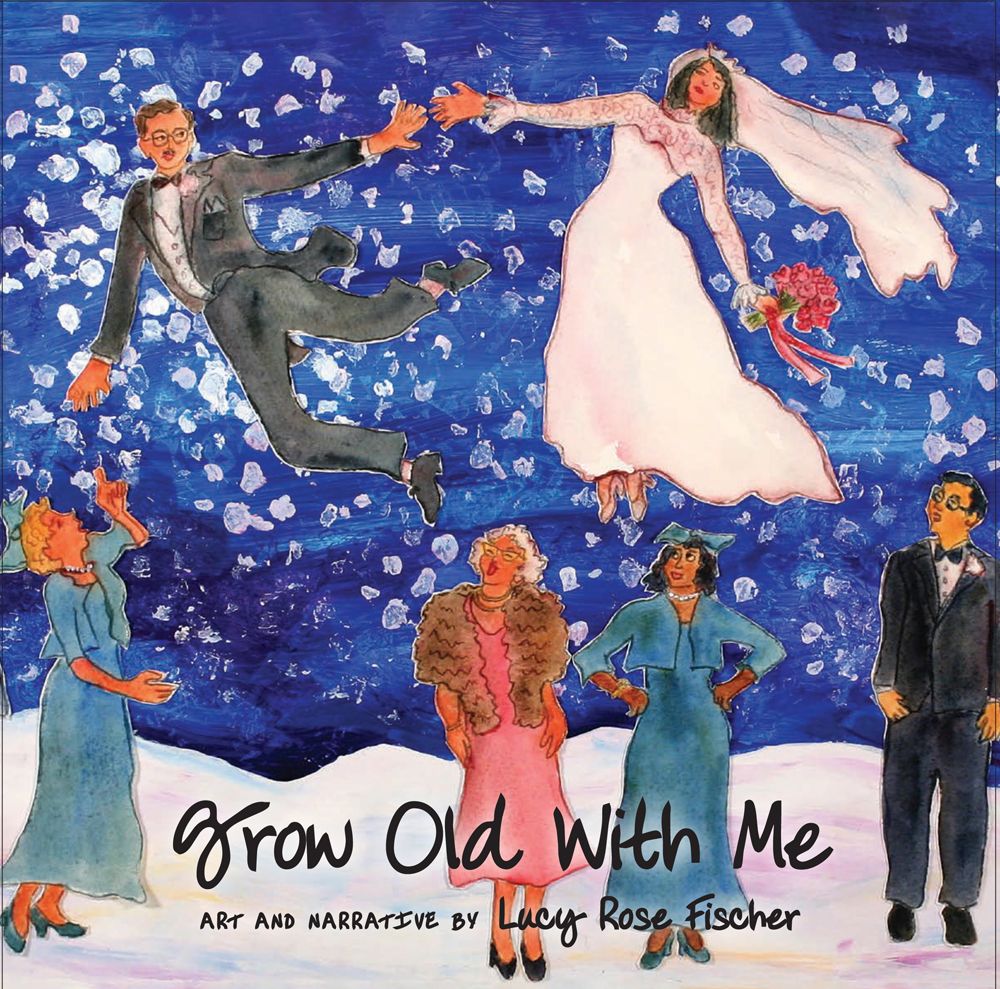 But aging also comes with losses. In the life journey, one may experience losses of parents, friends, or even spouses. Lucy calls them sweet ghosts and has created many arts depicting the long-lost souls. A lot of her readers share the memories that we carry in the journey of our lives.
Lucy says that earlier people used to plan to live till age seventy but if you start planning to live till hundred, you will think very differently about your life.
It is so different now , it's so remarkable that people are not only living longer but there's an opportunity to live healthy
Lucy's husband just changed his career to a retirement advisor at the age of 78 where he is helping people deal with the issue of retirement.  "There are many people in their eighties and nineties who are really vibrant and continue to work on extremely interesting projects. All the experiences that we have lived through have shaped us and even if sometimes we don't remember them, they still shape us and add to the depth of who we are. Who we become in older days are a subtle aggregation of these small experiences."
Support & Senior Community
One of the most difficult parts of aging is isolation. Isolation in fact has a very deep effect on mental health. She recommends seeking support whether it's just talking to someone or having someone to relieve you of caregiving responsibilities so that you can go out.
"Every story is unique but there is also this commonality in our experience"
Lucy says that she and her husband decided to move into a senior community where you tend to get a lot of sense of community and the neighbors are more involved. The senior centers will provide different kinds of activities including many volunteering opportunities which keep you engaged. But it's important to move at the right time.
Motivation
Starting a new career and working on projects like writing a whole book is not easy especially when monetary rewards are not obvious. As Lucy says, one should look at their past experience and see if there is something that gives them purpose and happiness. Volunteering is one of the most popular options. "As a volunteer, you end up receiving much more than you provide". We have covered the aspects of volunteering and how one can proceed with it in the guest article written by Dr. Loren Thomas.
Lucy smiles earnestly when she says that she finds creativity inspiring. Working on projects is a great way to take care of yourself. She gets obsessive about these projects because it's both fun and extremely enriching. She feels that the world disappears around her when she is focused on what she is doing. Other crafts can also be very rewarding such as cooking, gardening, reading, or even knitting.
"The process of creation is very rewarding especially when someone reads it and finds something meaningful out of it"
Physical & Mental Health
Health is key to enjoying aging. We recommend our Oseterics Yoga App for tailored workouts for graceful aging.  Research says that you may not completely avoid Alzheimer's but you can definitely delay the onset of Alzheimer's or another kind of dementia. Physical exercises are critical for both body and mind.
" If you buy a car and you only are going to keep it for two years, you may not care for it, but if you are going to keep it for long, you have to make sure that you service it " -Lucy
You can  access Oseterics App here: https://apps.apple.com/app/id1574133871
        ---OR----
Enter Your Phone number here:
---
You can learn more about Lucy Rose Fischer  ( Click the Link )
The Journalist: Life and Loss in America's Secret War
---
Feedbacks: Leave your comments below